CUTE FROG PORTABLE URINALS
MAKE POTTY TRAINING FUN FOR YOUR LITTLE MAN!
Some children pick up potty skills quickly, while others need parental support and plenty of patience.  Not all children develop at the same rate or will be prepared for toilet training at the same age, so it's essential to observe your child for physical cues. Boys Stand Up – Potty Training Urinal will surely help your little ones learn healthy and clean toilet habits in no time!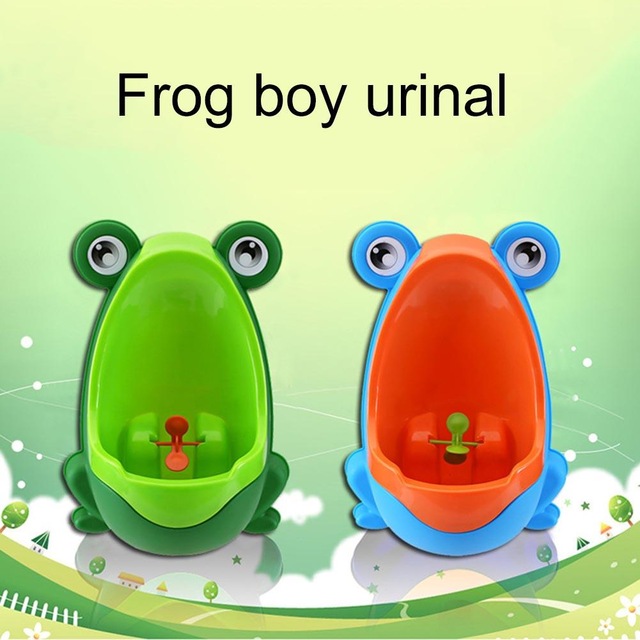 Boys Stand Up – Potty Training Urinal is the perfect size that offers the space needed without being overwhelming for toddlers.  The bright green and blue frog-shaped Boys Stand Up – Potty Training Urinal appeals to little boys, helping avoid the anxiety and distraction associated with traditional potty training.
It can either be mounted to the bathroom wall-including tile surfaces with its two strong suction cups, or you can use it in a freestanding upright position in any room.
More than a toy, a froggy potty is designed to provide the perfect training environment. You can easily mount the unit at an ideal height for your growing boy, improving his balance and eliminating the need for step stools.
Features:
Effective Training: Comes with a rotating water wheel to keep your toddler focus on his urine stream during potty training.
Environmentally friendly material, nontoxic and no peculiar smell.
Frog shape and rotating windmill improves your babies' interest.
Strong Suction Cup: The suction cups allow the urinal to be attached to any bathroom wall/surfaces and are easy to install allowing you to adjust the height of the urinal accordingly.  
Easy to Install: Easily mount it to the wall at the best height. Sturdily constructed with light and durable materials. Suction cup and adhesive mounting hook included. No tools needed for installation.
Easy to clean: Convenient detachable bowl can be taken out from the frame for easy and thorough cleaning.
Specification:
Material: PP ( Fifth level)
Size: 21*15*29cm
Color: Green,Brown,Blue,Yellow
Suitable: For 6 month to 6 years old children
Package Content:
1 x Boy Toilet
Limited Time Only!
Click ADD TO CART now with 50% OFF!